The Sabbourah rock face is between 8 and 20m high, beautifully located some 300m above the Yaffour and Sabbourah plane. Several terraces beneath the rock are inviting to have a pick nick. The rock in Sabbourah has an almost corroded appearance, a limestone with a lot of sharp edges, holes and pockets – not overly friendly to beginners' skin, thus. As in Monte Rosa, most of the routes are of medium difficulty, but the site is also home to the hardest opened route in Syria: Snakeskin 8a. Once you have developed thick skin on your fingers to cope with the razorblade rock, many of the more moderate routes turn out to be stunning beauties: Stolen Pajero 6b+, Arrivederci 7a+, Bottom-up 6a+ and Exit 6a+ deserve a special recommendation.
Sabbourah is the closest climbing site to Damascus and can be reached within 15 to 20 minutes by normal car followed by a 10 minute walk up the hill. By 4x4, you can drive all the way up to the cliff. The climbs are somewhat shorter than the ones in Monte Rosa, but the site offers a perfect alternative should climatic circumstances make climbing unattractive there. Facing south-east, the cliff offers a perfect wind-shade on days Monte Rosa is pounded with heavy westerly winds. On the hottest summer afternoons, its shade and elevation around 1200m produce a superbly cool micro-climate.
In winter, one can climb in the morning, but when there is a lot of snow, bouldering on the large number of blocks down-slope from the cliff is more fun. There is a military training camp just below the site and you might be asked by friendly soldiers to leave the area when they have maneuvers. It is wise to follow their instructions.
Down slope from the cliff there is a large boulder area. Unfortunately, most recently, some of the boulder problems described in a special guide book by M. Braun et al have been destroyed by an expansion of the hotel complex currently under construction nearby.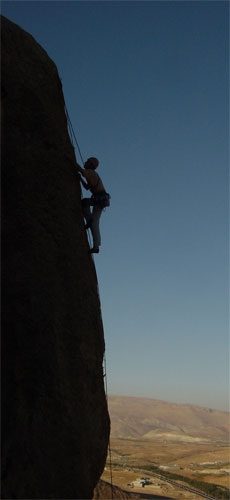 Markus on Exit 6a+